The year was 2020, Covid had everyone indoors, and Rapper, Blaqbonez released Haba. A good song, just like many others. You probably didn't even know the song or know who Blaqbonez was. Signed to 100 Crowns, a subsidiary of Chocolate City Music, you would have thought "yeah that's publicity sorted", but that wasn't what Blaqbonez thought. From Twitter to Instagram skits to TikTok videos, the message was clear, "Stream Haba". If these weren't enough, Blaqbonez aggressively set out to disrupt every Instagram live he set his sights on.
To take things up a notch, the self-acclaimed Best Rapper in Africa, set out into the streets of Lagos to promote his new single. And you bet, we all streamed the hell out of Haba
Where am I going with this? In a year with no live shows, no radio/ tv tours and no clubbing or parties, Blaqbonez single handedly ran a PR campaign for his song successfully.
On his strategy and motivation, Blaqbonez said "What counts as my "9 – 5" is creating videos on TikTok asking people to listen to my latest single…In these Corona times, social media is everything because there isn't a lot of offline promotion that can be done right now. That's why I am going hard on social media…So, now that my music is getting airplay, I have to double down on promoting it to an even wider audience."
All of this effort, paved the way for Blaqbonez as he got into the mainstream industry. I could go into a history of Blaqbonez from his days rap battling at Hennessy Artistry to Bad Boy Blaq and Bad Boy Blaq Re-Up but I'll save that for another day.
After dropping a couple of singles, he released his Album "Sex over Love". A 14 track album which brought about his new alter ego: Emeka the Stallion. Emeka the sex machine. Having already 'charmed' his audience with his "stream haba" tactics, it was without doubt that Sex over Love was going to get streamed proper (over 200 million streams on all platforms). I mean it was a good album so with that level of PR you're converting curious listeners to fans.
Over the course of the year, Blaqbonez had been championing an anti-love movement which of course relates to his latest album. A very relatable concept generally especially with the mandem getting heartbroken day in day out.
With his stock on the rise, he dropped a Sex over love Deluxe album and put out a tweet at the tail end of the year regarding an upcoming album, Young preacher.
Now here's where things get interesting.
On the 25th of January 2022, he put out an artwork announcing his headline concert 'Breaking the yoke of love'. He calls it a crusade actually and from the artwork he's wearing a white suit with a pose that depicts a young preacher, yes, young preacher.
He takes his publicity a step further with a clip showing him having a conversation with Ric Hassani who went from singing "Gentleman" to now singing "Thunder fire you."
He then released the lineup for his crusade referring to the artistes as Ministers, Elders and Brothers.
How can I forget his evangelism on the streets to share flyers. He was at the University of Lagos moving with his megaphone.
As funny as all of this may look, one thing is clear, he is gradually shaping himself as a young preacher in a build-up to his Young Preacher album. Strategic move.
Another thing is the timing of this crusade. Sunday 13th February 2002, a day to Valentine's Day, the day of love. Breaking the yoke of love a day to the day of love. Nah, he's a genius.
Has this strategy worked? Well, his early birds ticket for his show got sold out on Friday. That's probably enough to clear your doubt.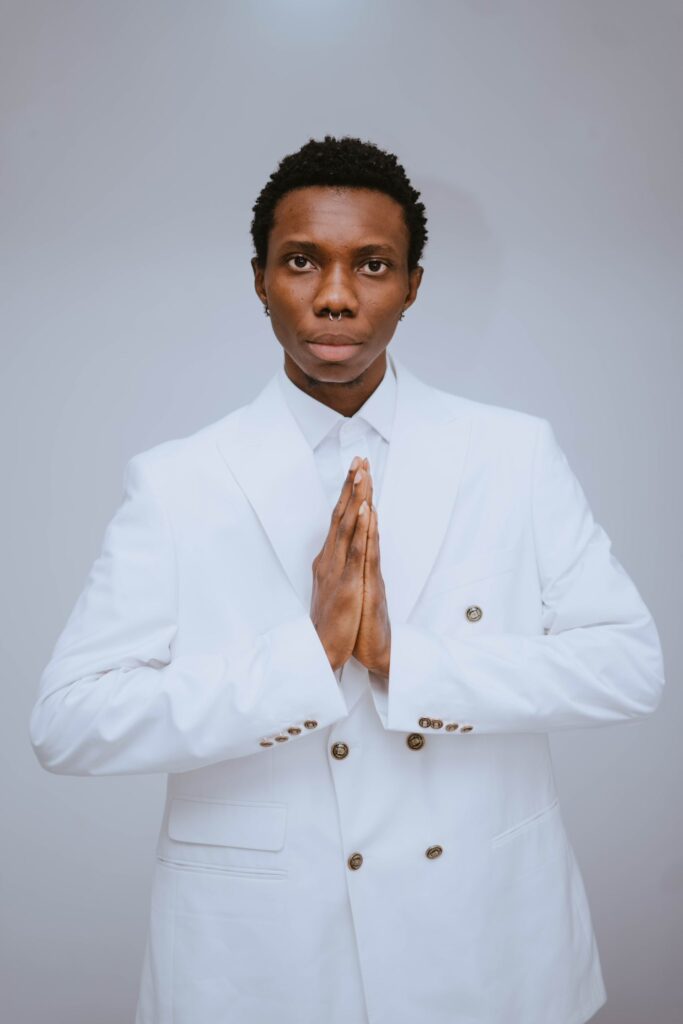 Blaqbonez is on an upwards trajectory and has gone from begging us to stream Haba to having his own concert in roughly 2 years. With his obvious music talent combined with his genius content-creating skills, there is no limit to what he can achieve.
His approach however, is something artistes and content creators should look at closely because like I said, he's a genius.