We all didn't really catch the Adekunle Gold wave when it came in yeah? Or was it just me?? But yes! There was still this really distinct thing about him, his dressing and style, his sound; everything was different. I mean, who wears Adire outfits and Suits in their first/second music video lol. At that time, there was nothing and nobody like that so it brought about a lot of attention and focus on him.
…
NOW, WHO IS ADEKUNLE GOLD REALLY?
…
Adekunle Kosoko (born 28, January 1987), popularly known as Adekunle Gold or AG Baby, is a Nigerian highlife singer, songwriter and graphic designer. We can say AG Baby gained attention after releasing the 2015 hit single "SADE" which was a highlife cover of One Direction's "Story of My Life". AG Baby signed a record deal with YBNL Nation and released his debut studio album GOLD, which debuted at number 7 on the Billboard World Albums chart. The GOLD album had viral hits such as "Sade", "Orente" and "Pick Up".
…
I should drop one interesting fact before proceeding with this read. AG Baby designed the YBNL Nation logo and he has also designed many cover arts and logo for other artistes and members of the label. For someone that has an HND in Arts and Design , that's not even surprising in any way.
…
…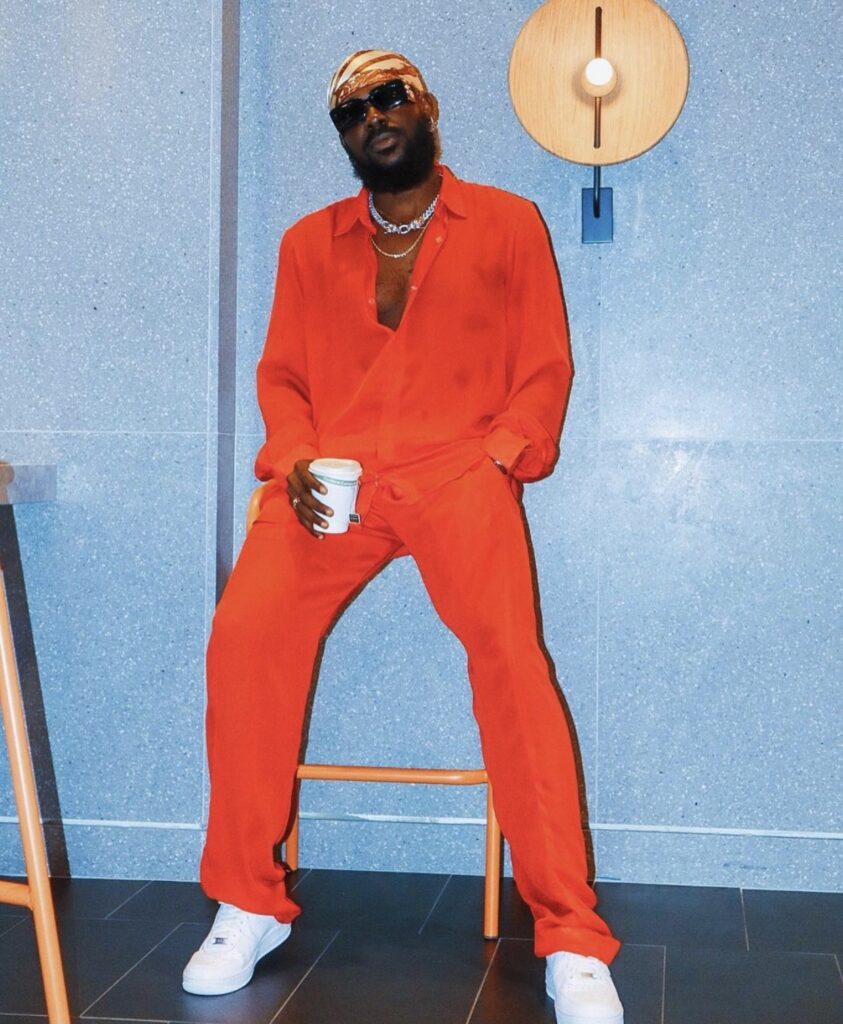 …
…
AG Baby listened to the likes of King Sunny Ade and Ebenezer Obey growing up. Sources also showed that he was a member of his church choir during his teenage years. He also wrote his first song at the age of 15, pretty sure not so many people know about this song. AG Baby dubbed the nickname "KING OF PHOTOSHOP" after he posted various edited Photoshop images of him and celebrities such as Tiwa Savage, Kim Kardashian, Beyonce, Chrissy Teigen, etc.
…
Adekunle Gold released "Sade" on 19th, December 2014, which was a song that depicts a man begging a woman for love and affection in every way he knows how to go about it. The song rose to critical acclaim and was nominated for Best Alternative Song at The Headies 2015. Yes! That Headies, the one you're thinking about right now; that dramatic one lol.
…
After the release of "Sade", Adekunle Gold released his first official single "Orente" through YBNL after signing a music contract with the record label on March 5, 2015. Oh! This song was beautiful, sensational! That was one of the top love songs out that year. AG Baby was nominated in the Most Promising Act of the Year category at the 2015 City People Entertainment Awards. Adekunle Gold released his debut album 'GOLD' on 25th July, 2016. The album peaked at #7 on the Billboard World Album Chart for the week of 13 August 2016. Hmm Big W for real. Adekunle Gold unveiled his band "The 79th Element" in reference to the atomic number of gold after his exit from YBNL due to the expiry of his contract.
…
Adekunle Gold was one of the many top artistes that spiced up our 2020 lockdown szn with beautiful sounds and music. AG Baby released his anticipated album "Afro Pop Vol. 1" on 21st August 2020. The album contained 10 tracks with featured artistes like Patoranking, Tekno, etc. In fact, I think this was when the name AG BABY stuck and he had everyone saying "AG Baby is our/your baby". This album did extremely well and did great numbers, you could tell AG Baby and his fans had a great year.
…
Moving on to 2021, The 34-year-old singer dropped three hit singles; "It Is What It Is", "Sinner" featuring Lucky Daye and the big Amapiano jam "High" featuring Davido. Your playlist is literally not complete without any of these jams. Adekunle totally outdid himself this particular year. It's 2022 and you can still feel the heat and energy whenever these songs play anywhere.
…
AMBASSADORIAL DEALS, ENDORSEMENTS, AND AWARDS.
…
The pop star has done really well for himself and bagged a number of ambassadorial deals with many big brands. AG Baby is a brand ambassador for Unity Bank, Nigeria. He is also a brand ambassador for Revolution Plus Property, Guinness Nigeria and many more.
…
…
…
…
You can tell that this music thing is really working out for Adekunle Gold just by looking at some of the awards and nominations he has received in his career so far.
Best Single of the year (Nigeria Entertainment Awards 2015).
Best Song of The Year (Beat of Lagos Award 2015).
Revelation of the year (AFRIMA 2015).
Best Alternative Song (The Headies 2015).
Best New Act (Nigerian Entertainment Awards 2016).
Collabo of the year (City People Entertainment Awards 2017).
Most played RnB Song (Net Honours 2021).
…
TO JOIN THE AG BABY RIDE THIS 2022 OR NOT?
…
Dear reader, if you ask me, I'd definitely scream a big yes! Judging from how 2021 went down, recent tweets from AG Baby, it's certain 2022's AG Baby is going to be fire.
…
He made an announcement on his twitter, telling us about a new album that will be dropping this year. He also revealed further that the album is titled "Catch Me If You Can" which is set to drop on February 4, 2022. Also, he announced a new single from the album, titled "Mercy" which was released on the 21st January, 2022 preceding the album release. Listen here:
…
…
…
Looks like everyone on this ride will be eating good this year. I honestly can't wait to see the beautiful sounds and creativity AG Baby has to show off this year. If you're still contemplating on catching the vibe or not, then you should check his discography and experience beautiful music. A man that thrives well with Afro, Pop, Highlife, even a sprinkle of Fuji lol. AG BABY IS TRULY OUR BABY!