In the pulsating realm of the Nigerian music industry, where the rhythm constantly evolves and youthful trends dominate the scene, a narrative of triumph emerges. It's the story of veteran artists gracefully growing older amidst a sea of new faces and ever-changing sounds. Among these resilient figures, one artist shines as an exemplar of the art of navigating the industry's shifting landscape while embracing the wisdom and seasoned artistry that come with experience. That artist is Harrysong.
With the release of his fourth project, aptly titled "God Amongst Men," Harrysong once again proves why he stands tall among his peers. This album is not just a collection of songs; it's a testament to his enduring impact on the Nigerian music industry and a reflection of his evolution as an artist. It's a testament to the fact that age is no barrier to creativity and relevance in an industry that often favors the young.
From the early days of his musical journey to his present status as a celebrated artist, Harrysong's music has continuously evolved, captivating audiences with its timeless charm. As the industry around him undergoes rapid transformations, he has managed to maintain his creative edge by embracing change and staying open to new influences.
It was in this spirit of innovation and adaptability that Harrysong gifted us with the iconic hit single "Reggae Blues." Released in 2015, the song became an instant sensation, permeating the airwaves and becoming a national anthem of celebration. Its infectious rhythms and catchy lyrics had people from all walks of life grooving to its irresistible melodies. "Reggae Blues" showcased Harrysong's ability to seamlessly blend reggae and highlife sounds, creating a unique sonic experience that resonated with listeners across the nation.
The success of "Reggae Blues" catapulted Harrysong into the spotlight, solidifying his position as a musical force to be reckoned with. Yet, he didn't rest on his laurels. Instead, he used the momentum to propel himself further, pushing the boundaries of his artistry and embracing the challenges that come with growth.
Now, with "God Amongst Men," Harrysong raises the bar even higher. The album serves as a testament to his unwavering dedication to his craft and his ability to captivate audiences with his heartfelt lyrics and soulful vocals. It's a musical journey that takes us through the depths of human emotions, touching on themes of love, self-discovery, and the quest for meaning in a chaotic world.
As the industry around him undergoes rapid transformations, In "God Amongst Men," Harrysong  has managed to maintain his creative edge by embracing change and staying open to new influences.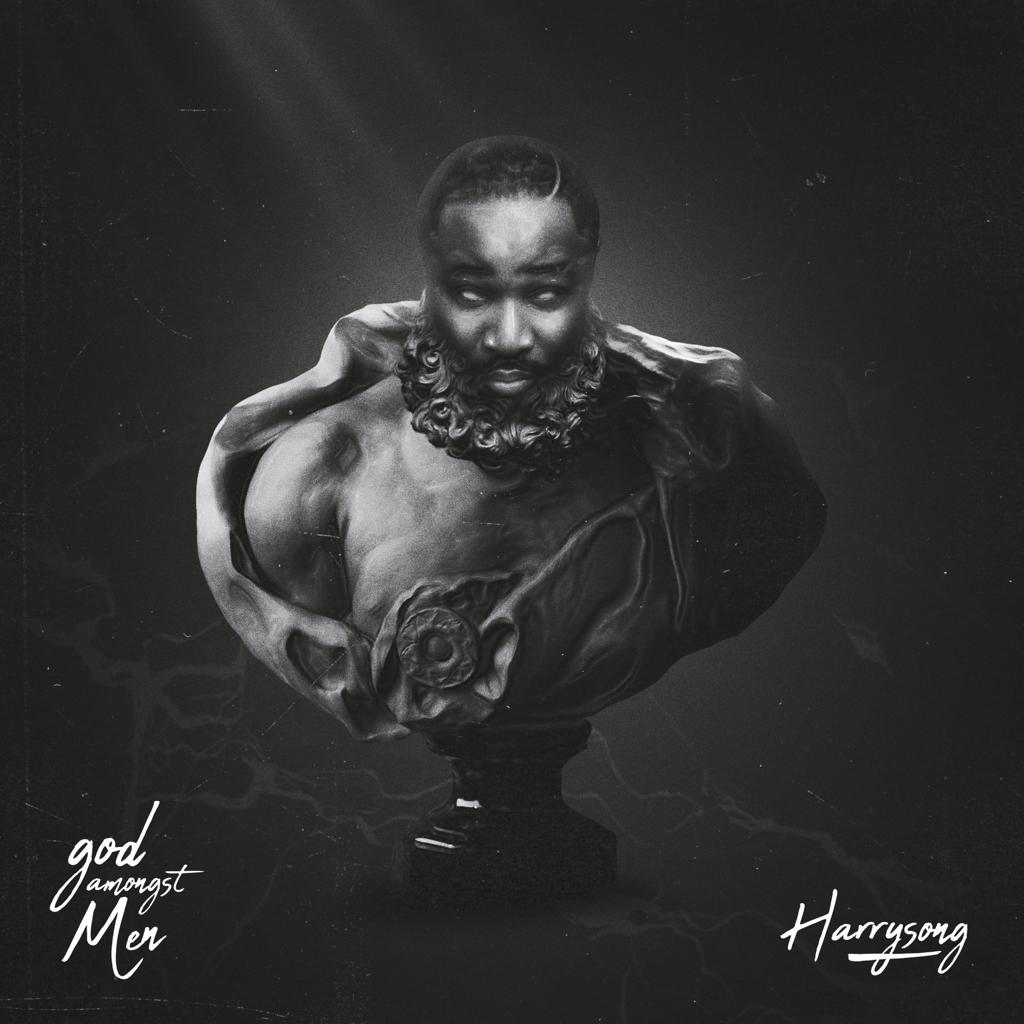 In this exclusive interview, we have the privilege of delving into Harrysong's remarkable journey, exploring the evolution of his music, the challenges he has faced, and the profound wisdom he has acquired along the way. As we peel back the layers of his artistry, we discover the inspirations behind his latest album and the deliberate choices he has made to stay connected with a younger audience without sacrificing his authenticity.
Interviewer: Thank you, Harrysong, for sharing your insights and experiences with us. Let's dive deeper into your latest album, "God Amongst Men."
The title "God Amongst Men" is powerful and thought-provoking. Could you elaborate on how your personal journey as a veteran artist has influenced the themes and messages explored in the album?
Harrysong: My personal journey as an artist, filled with struggles, victories, and losses, served as the main inspiration for the album's title. Through this album, I aim to leave an everlasting mark on the world and reveal the god within me. "God Amongst Men" reflects my stories, my struggles, and serves as a source of inspirational music that resonates with others.
The album is said to offer a unique perspective from a vantage point. Can you share some life lessons or social commentary that you've woven into the album, and how they reflect your growth as an artist?
Harrysong: This album is a reflection of my life, encompassing everything that makes me who I am. It represents my ability to overcome challenges and bounce back with the reality of my being. Within the songs, you'll find life lessons about resilience, self-belief, and the power of pursuing one's dreams. As I've grown as an artist, I've gained a deeper understanding of the impact my music can have on others, and that has influenced the messages I convey through my songs.
Now let's talk about the process of creating "God Amongst Men." What inspired you to make this album, and what did you learn during its production?
Harrysong: The inspiration for "God Amongst Men" came from my desire to share my truth with the world. It's a representation of my journey and the realization that life is singular, urging everyone to make the most of it. During the production process, I learned the importance of crafting each message in the right way, ensuring that every song conveyed my intentions accurately. It was a transformative experience that reinforced my dedication to creating impactful music.
Within the process of creating the album, what were your high and low moments?
Harrysong: One of the high moments was successfully translating each message I wanted to share into the songs. It was fulfilling to see my vision come to life. However, I faced challenges in connecting with collaborators who shared my dreams and understood the essence of the album. Collaborations are crucial, and finding the right people to work with can be a low moment when expectations don't align. But overall, the process was rewarding and helped shape the album into what it is today.
Speaking of collaborations, you chose to collaborate with younger artists on this album. How was the experience, and how do you believe it has influenced your music?
Harrysong: Collaborating with younger artists on this album was an intentional decision to embrace the new generation of talent in the music industry. It allowed me to be a part of the evolving music landscape and share my experiences while uplifting and blessing these artists. The experience was mutually beneficial, as their fresh perspectives and energy infused my music with a renewed vitality. Collaborating with them served as a bridge between the past and the present, resulting in a unique blend of styles and sounds.
"God Amongst Men" is your fourth project. How does this album differ from your previous works in terms of musical style and the messages you convey through your music?
Harrysong: This album, "God Amongst Men," holds a special significance for me. It stands out as a testament to my growth as an artist and as an individual. Musically, it showcases a refined and evolved style while still maintaining the essence of what makes my music distinct. The messages conveyed through the album are deeply personal and reflect the wisdom and experiences I've gained throughout my career. It's a testament to my journey, highlighting the lessons I've learned and the path I've walked.


As you've gained more experience and wisdom throughout your career, how has it influenced your songwriting and the messages you convey through your music?
Harrysong: With each passing year and every milestone, I've become a better version of myself and a better artist. This growth has directly impacted my songwriting. I now possess a deeper understanding of myself and the world around me, allowing me to craft more meaningful and relatable messages. The experiences I've encountered, both positive and negative, have shaped my perspectives and provided me with a wealth of material to draw upon. It has allowed me to connect with people on a deeper level, conveying emotions and stories that resonate with their own lives.
Balancing the needs of existing fans while attracting new listeners can be challenging, especially in an industry where youth often dominates. How do you manage this delicate balance?
Harrysong: Balancing the needs of existing fans while attracting new listeners requires continuous growth and evolution. It's important to stay true to oneself while remaining open to new sounds and ideas. I believe in upgrading and evolving as an artist. By doing so, I can expand my horizons and appeal to a broader audience while still maintaining my core fan base. Making my music accessible to new listeners while staying authentic to who I am encourages their engagement and fosters their connection to my art.


Growing older in the music industry can present its own set of challenges. How do you stay motivated and inspired to create music that pushes boundaries and connects with people on a deeper level?



Harrysong: Staying motivated and inspired as I grow older in the music industry is a combination of factors. Firstly, I remain true to myself, embracing my originality and unique perspective. This authenticity allows me to continually push boundaries and explore new creative territories. Secondly, I find inspiration in the experiences and stories of those around me. Connecting with people on a deeper level fuels my creativity and drives me to create music that resonates with their lives. Lastly, I strive for