I wasn't going to start this piece with the usual story of how the rap music scene in Nigeria is missing an X-factor, and how the talented Odumodublvck might just be the incumbent champion that will save the dying genre, i choose another route.


Interviews are really interesting, especially one in which the person being interviewed is in his habitat, everything is revealed, to the tiniest detail. There's no 'forming' because your body language will give you away.


This was one of the reasons I eagerly anticipated my interview with talented Abuja bred rapper, Odumodublvck or "Big Gun" as he is fondly called due to his audacious persona. The rapper's energy, lyrics, his habit of typing using all caps and overall aura that he seemingly emits, gives the idea that he's a hard guy, the type to set you straight at the slightest opportunity.


But is that who he really is? Well, I guess we'll find out.



On arrival, he requested for a moment to bet (a friendly reminder to bet responsibly). He shared some of his gamble triumph that he had in the past week, and also some of his losses. On this day, he selected European heavyweights , Germany to defeat Japan (I believe we all know how that played out).


Odumodu has had a fast rise over the past year and still, a lot of people don't really know who he is, Who are you really?


"Everything you hear in my song is me. Number one, I'm a Jesus guy. Everyone I meet, I make it clear to them. I stand for everything Jesus stands for"


Growing up , Odumodu was born in Lagos then later moved to Abuja, then came again to school briefly in Lagos, has Switching Cities left an effect on you as an individual?


"Funny enough, na for Abuja wey I learn how to speak pidgin, In Lagos, I be ajebutter boy. But when I went to stay with my Aunty at Yaba, brooo gutter dey outside the house. What the hell? Lagos? Nahh. The only thing I can use Lagos for is to promote my music. I don't like noise. You can see where I'm staying, no noise"


You didn't mention traffic


"Omo, forget that side. That's why I don't go out. Even if Wizkid is my bestie, I won't stay in Lagos. (laughs)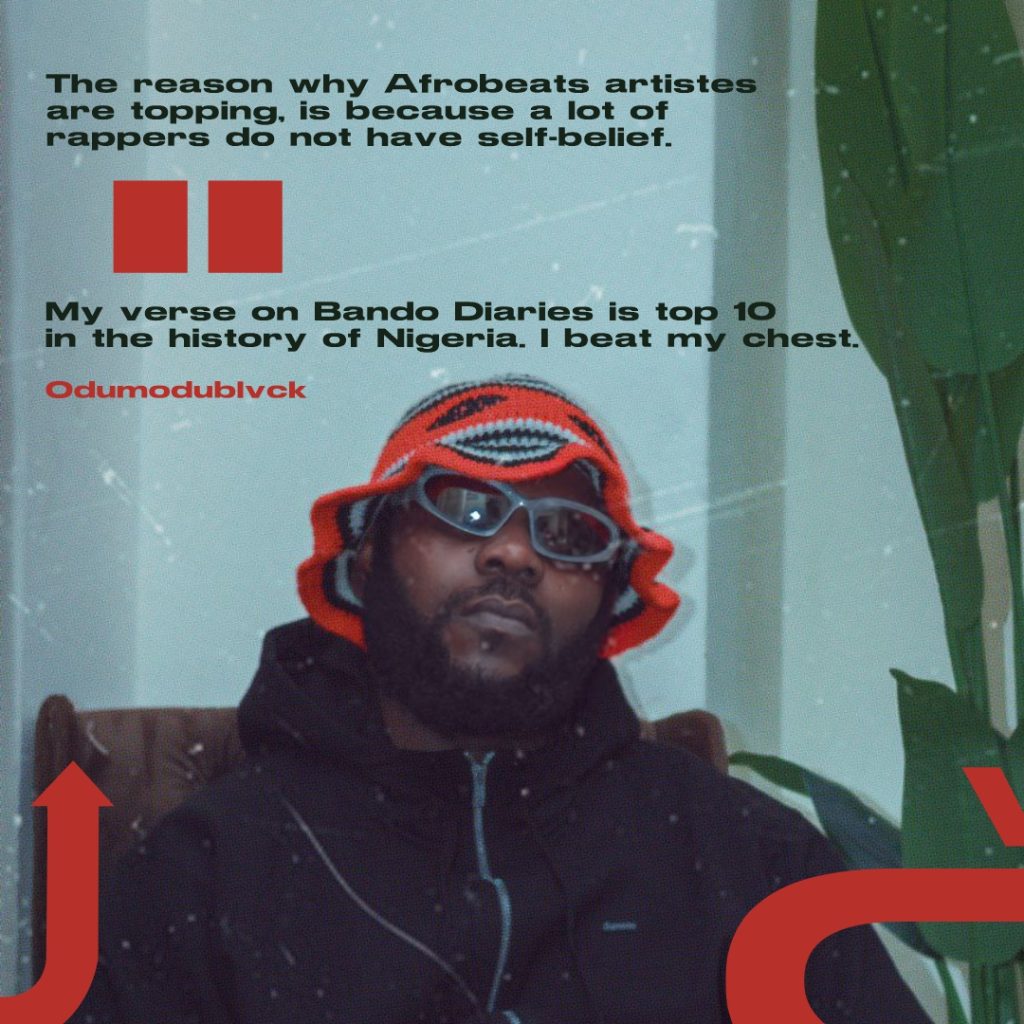 The Abuja music scene is a rising market with the likes of Yourself, Zilla Oaks, PsychoYP, Tay Iwar, Lady Donli, Eeskay Replay and many others, how's the music culture like there?


It's mad because it's obvious that it's our time. I told them in 2018 about today and thank God everything I said is happening and even better. People say Abuja people are laid back. Yeah, but it depends on what you are bringing to the table. I've met people in Abuja who are hustling way more than the guys in Lagos but they don't have the structure or foundation and that's very difficult for them


Could You Say You Saw This Uprising Coming?



Right from time, I knew how it was going to be, I calculated everything and it worked out well for me. It's just to put yourself out there, even if you want to be a drug dealer or a terrorist, put yourself out there. What I'm doing now, if I was doing it in Borno, it'll have the same effect. People say: "If you dey Lagos, you for don blow since", but how do they know? Was I doing the sound that Lagos people appreciate?


With Abuja, another thing that comes to mind is Anti World Gang Stars, there's that popular intro that I always struggle saying. How did you meet these guys? Gustavo. Agunna, Fatboy E?


Agunna is my childhood friend, Gustavo too. I met Gustavo when I was just a kid, Agunna when I was 9 or 10 but he became my friend when I was 14. Reeplay was through one of my childhood friends.


So, these guys are family?


Yeah, it's a family thing, I can't forget these guys and as family, we've never charged each other for anything.


What is your style of music? I've heard Drill, Okporoko and some others. What will you say it is?


It is 'Okporoko', that's what it is. A lot of people say their stuff sounds different but is it really different? When you hear Odumodu's music, you know it's him. When you hear his voice, you won't say 'ah is that Burna?' you will know.


What Other Musical Elements Constitutes 'Okporoko'


Inside 'Okporoko', there's Drill, there's Afrobeats, Highlife, everything but I put it into one segment. My next album has all of these genres but it still sounds like the same thing because the artiste is aware of the sound. God has given me the grace to understand my sound. Nothing under the sun is new, but it is how much you refurbish it to make it your own that makes it seem brand new


Your Persona stands out and it shows through your music. The typing in caps on social media, the energy and all, was it planned going into the industry? Or is this how you have been?


This is how I've been. If I planned it I would not have been able to keep up for this long. When you see me type in caps lock, subconsciously you'll be forced to read it. Then again, I'm confident about what I say. What I say is what I say.


Then your Okpu Agu where does that come from?


That's my Warrior cap. It's to fight against the industry, to tackle the industry.


And you're ready?


Ah!, they know. I am more than ready. Everyone that counted me out is trying to count me in now. That is how it has always been, but I'll forgive them because that is what Jesus will do.




One of the songs that brought you into the limelight proper was your verse on Psycho YP's 'Bando Diaries'. In an interview with YP, The moment I mentioned your name he went bonkers, telling me how hard your verse was and how talented you are. He had to come to Abuja to shoot your part for the video. How did that verse come about?


It's just normal Odumodu. It's in my blood. It's easy for me. I have so many verses. It's not even about bragging. My verse on 'Bando Diaries' is top 10 in the history of Nigeria. I beat my chest.


You Sound Very Convinced About This


Omo ,they should come, Vector, MI, Erigga, If they bring their verses and it's in the top 10, Bando Diaries will be there too. My verse on 'Agbalagba', my verse on 'Cheffing'. My guy!, I was with Telz the other day and I was rapping and he was holding his head like "Fuck". He hasn't even heard my guys. Go listen to 'Gang Business'.


Around that period, you dropped 'Dog eat Dog' but there was a diss record that led to that.


When I dropped the diss record, a lot of people were like, 'Wetin this guy dey talk" and most of the people that were against the song were from Lagos because I dissed Lagos. There was a video of one babe on the streets of Lagos who was asked if she would have sex with a dog for a million naira. She said yes, for 1.5 million naira. What if she had come across a rapper she had sex with after fucking a dog? That was why I said all I said in that record.


If You Could, Would You Take It Back?


No, Everything I said there was real. Over 40k views despite all the backlash plus the real ones knew. Blaqbonez said it was hard!. From there, eyes started opening. I dropped 'Dog eat Dog' and I showed them that I'm not just a rapper. The melodies on that song are peak.


It's no longer news that you're with Native records. How did you get to join them?


It's very simple "How far guy what do you want to do? This is what I want to do. Do it with us, let's do it." Simple


Meaning there is a common goal?


Let me give you an example, when the budget for 'Picanto' came out, I said "Teezee we have to buy a Picanto" he didn't even ask why, he agreed. It's a real-life promo. I hit the jackpot with this song, man because when you see a Picanto, I'm probably the first person that comes to your head.


And it's not like I do not have money to buy another car. Why Picanto? Picanto signifies humble beginnings. Picanto describes how little our platform was but at the end of the day, we are still going to be on the express. Where Bentley goes, we go, where Benz goes, we go.



It took a while for Picanto to drop. The snippet was released months ago. You intentionally held on to releasing the song even though the snippet had gone viral. Why?


I came into the industry to come and scatter everything they said was working before. I read in a book that if you want to promote a song, you start 8 weeks before. I multiplied mine by two. Everybody will wait. If I dropped it when everyone wanted me to, I wouldn't have gotten an advance, I would not have gotten Zlatan on too. Everything has to be done at your own time.


I asked Zlatan directly what I wanted. As God will have it, his first car was a Picanto. The producer's mother's dream car is a Picanto. It's divine. Even if Wizkid drops his Album the same day as Picanto, it will still get the same buzz.


How has the love been?


The love has been massive. I saw some people saying on Twitter that the song was trash. You know they don't like me but why should they? Even Jesus was killed. Me, Odumodu, I no send anybody. People that call me a rubbish artiste, Kilo kan mi. Rubbish artiste wey Skepta dey post, rubbish artiste that Seun Kuti invited to his house and fed me and my guys. How now?


Skepta my Don texts me bro. He said he sees me as a younger version of himself. Skepta oh, not Burna, Olamide, Wizkid or Davido. Skepta.


What do you want to be, Hodovai?


A sports Physiotherapist


Imagine Haaland complementing you and calling you one of the best and one hullaballoo says Hodovai is doing rubbish, will you take that person seriously when Haaland is on your side? You obviously wouldn't.


You have a lot of football references in your songs, I assume you love football. What's the motive behind that?


I'm a die-hard football fan. If I wasn't doing music, I'll be a footballer. One thing that people don't know is that calling those names carries more power. If I say "Survey the area like police", that's calm. If I say "survey the pitch like Luka Modric" it carries more weight.


How do you see the rap culture in Nigeria? It's a never-ending discussion


For me, progress is subjective, because the discussion comes up every time doesn't mean that people won't still Jonze. The reason why Afrobeats artistes are topping is because a lot of rappers do not have self-belief.


Back then, the talk was nobody cares what you are saying, they just want to vibe. Why? The people saying this did not have lyrical content.



The next thing was, "Nobody wants to listen to an EP because people's attention span is low." Burna boy dropped something close to that and everyone jumped on that. Burna then got nominated for a Grammy with an album, everyone jumped on that wave once again.


How many Albums have come out in Nigeria in recent years that are a solid 8? African Giant, Made in Lagos (Because Wizkid is Wizkid) maybe Omah Lay's last album because Omah Lay is fucking dope.


So rappers are not doing what they are meant to do, they are following trends. Afrobeats guys are dropping visuals as they drop albums. Asake is using the same beat but he drops videos immediately. He is in your face, Seeing is believing. When I blow I promise you I'll do a video album. Every damn song. You'll see me everywhere.


Put effort into your craft as a rap artiste. I dissed M.I on that twitter space. Dropping songs without videos. When he saw me in the club after that day, he gave me money because I was saying the truth. He's our leader. If they don't respect him, they won't respect us.



Rappers need to sit up and drop songs like pop artistes and not wait for the perfect time. The only time you wait is if you have a perfect plan, when you know you're going to get an advance, get playlisted and all of that.


What should your fans expect after Picanto?


El Traficante. Odumodu and Payper Corleone featuring Esskay and Jeriq. Full Cartel movement. I want to take listeners from that sweet sound to the jungle to cocaine to 'Igbo' to guns, money, and blood. I'll have them wondering if it was the same guy that sang Picanto. After that, I'll drop another song. My album is for next year but there is no set date. The album is crazy and it is going to change everything. At the end of the day, it's all God.


The Title of the Album is 'Eziokwu' meaning 'The Truth'.


A Word To Your Fans?


They just need to stay tuned. I won't disappoint them.