Olamilekan Massoud Agbeleshebioba arrived in the spotlight at a time when the world was ravenously in need of entertainment – the Nigerian singer's wit merged with strategic gameplay had given him a superlative edge in the 2020 Big Brother Naija Lockdown Edition house which made him an "overnight" success.


Since finding fame, Laycon has struggled to extricate his musician persona from his reality show character in the eye of an ever-critique-minded audience. His music has often been reviewed under a pre-existing paradigm that comes with aspiring artists who break through via a reality tv show.



In the long run, this has affected the twenty-nine-year-old singer's artistic appreciation- especially when he had released a decent Long Play debut such as 2021's 'Shall We Begin'- having his effort watered down to a dismissive crowd as mediocre and arty in the process.


Although 'Shall We Begin' wasn't exactly what one would have called a masterpiece, it still conveyed the rapper's brewing personality, talent, and versatility – despite being championed by bubblegum hits like 'Verified' (Feat Mayorkun).


Laycon's Sophomore 'Bioba' however differs exponentially from his debut in many ways than one. Bioba is a reverse case of the "sophomore curse"- outshining its predecessor with its dynamic music productions, songwriting, sequencing, overall delivery, and Woah!… When did Laycon learn to sing in such controlled textures?


With the sophomore project Laycon notably steers clear from adopting the South African Amapiano rave, rather exploring sonics from zones such as Arab (Odumodu In A Picanto), and traditional Western mainstream sonic influences like Hip-hop, Grime, Trap music, and Rhythm and Blues and Afro- Pop.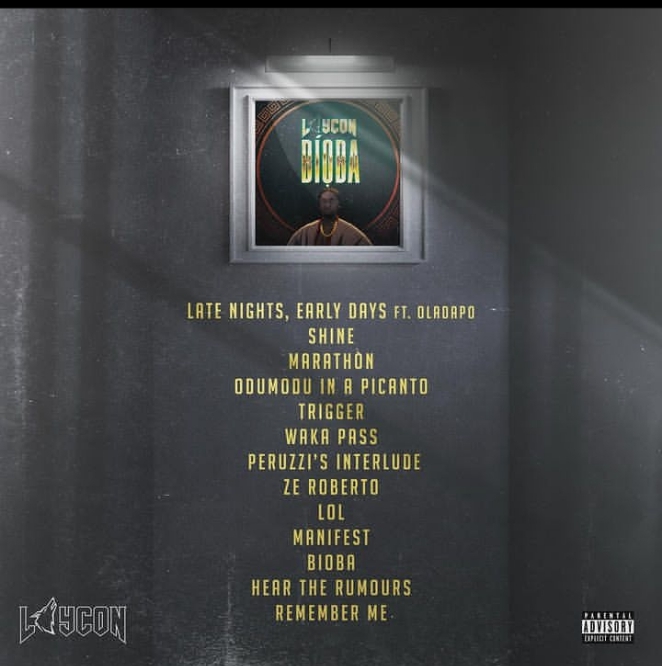 'Bioba' is Laycon's clap back at the hefty denunciation thrown towards him in the recent past- more of a self-proclamation than a clap back in retrospect. Laycon yearns to assert his innate coronation as a "King " in his own words ( Peruzzi's Interlude), he seems to have found the joy of self-discovery – amidst the chatter and chaos.


The thirteen-track body of work is a reflection of the background work that has gone into play, Laycon's growth is evident in each track even when he maintains old sonic theatrics in records like 'Remember Me' and 'Peruzzi's Interlude'.