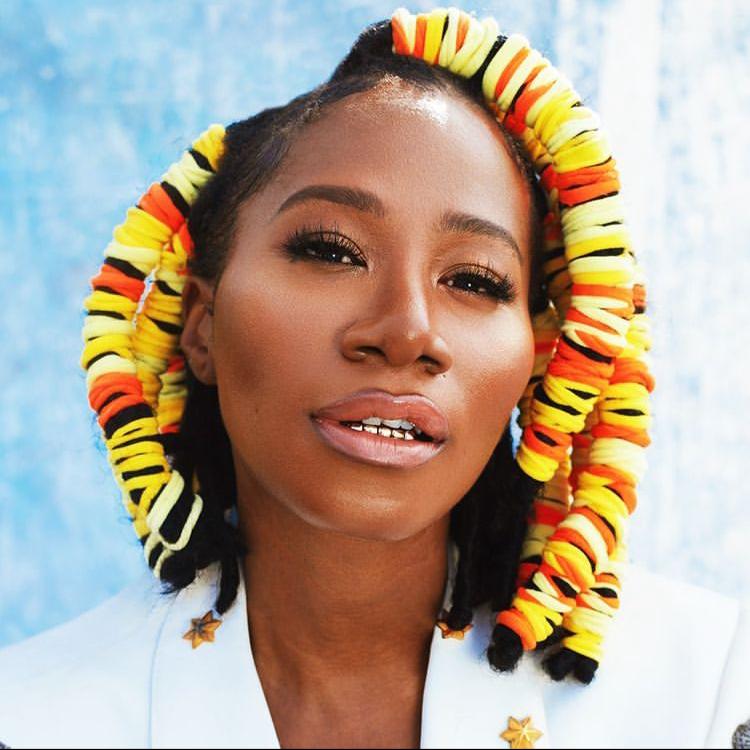 …
…
Hey! Our queen of soul and Afro-fusion is back with a new album, titled "V" with an extremely different sound and wave different from the typical Asa; this one is for EVERYBODY for real. The V album contains 10 songs with features from Big Wiz, The Cavemen and Amaarae. Every song on the album just came with its own vibe and particular purpose; it's lit! The featured artistes did justice with their respective verses and delivered 100. Talk about the production and transitions? It's a 10/10; shout out to P.Priime btw. Asked a couple of friends about what they think about the album and I heard the same exact thing I'd say; "I honestly love that it still has the regular makings of the typical Asa we know and it's also infused with new Afrobeat style and wave". Looks like everyone is on the same page but if you're still thinking about whether you should listen to this album or not, and if you need to know what you should be expecting to feel and hear while listening to this album, this review is going to break down and talk about every song on this album to help you decide. Okay, let's get into it.
…
Proper opening into a beautiful album, yes but first, we should see the meaning of Mayana. Historically, Mayana means "spring of life". This song is absolutely melodious with a nice blend of drums and sax and this makes it way too sustainable because most lyrics in the song especially in the hook were repeated and this gives room for the tune to stick with the listener. Plus, the song ended short so you definitely want to put it on repeat. On Mayana, Asa talked about everything she wants to be for the guy and she mentioned his other favorite things too. The video of this song is perfect, fits well with the whole message she was trying to pass.Not one to preach love on a regular day, but I recommend you have this in your love playlist for real.
Listen here.
…
Going from Mayana to Ocean, a beautiful direction was established and it gave room for me to think about the old exceptional music Asa has dropped so far for a moment, "This woman is good!", that was the instant remark that popped in my head. Shout out to P.Prime again, killed it on this song 100% for real. See what I said about the direction and flow from track to track? On Ocean, Asa talks about how much she want the guy and how she'd literally do anything for him. As she proceeds through the songs, she also mentioned how much she wants to satisfy him and be sure she isn't doing too much; maybe men are really the prize lol. Here's another song that should definitely be on your love playlist/beachside playlist.
Listen here.
…
Track 3 – IDG (featuring Wizkid).
Perfect music for a chill Saturday morning? This is it! There are so many details in the background and lyrics of this song. This particular song is like the main character on the project. I have never actually imagined what an Asa x Wiz would sound like, this literally blew my mind and beat expectations. Please pay attention to the lyrics of this song while you listen, beautiful words fused together to make a jam. I'll describe this track as one that fits for "Soft life, No stress" ,just get in the groove and feel it. This is definitely a song to listen to whenever you need to relax and just vibe, get into it! This one is special.
Listen here.
…
This one right here is another bop. This track is so beautiful and soothing; I made sure I spent a lot of time listening to this one. Lol, sorry but this song might make you crave/want a heartbreak. I was listening to this and paying attention to the lyrics and I had to ask "who broke Asa's heart? Why is this so smooth?". It hits harder when you can actually relate to everything she's saying in the song; hmm life tuff. The pre-chorus and chorus describes how she let her guard down but still got her heart broken. Second verse describes how she assumed she was doing everything right but things still didn't work out; totally relatable for real. If you need a song that'd remind you not to go back to the unreciprocated feelings and energy, you should listen to Nike. The production of this song is extremely fantastic; P!
Listen here.
…
This one would make you want a partner before next month for real. On this song, Asa is literally telling you to go out there and get booed up; Let somebody love you. But, how did we really go from Nike to Show Me Off? How did we switch from a breakup moment to craving PDA? I thought we were done with love-  anything the queen says lol. The production of this song is lit; listen carefully and feel those bass lines oh Lord! Show Me Off is a proper love song; the type that makes you want to do that slow dance with someone's child. Add this to the list of songs that would play at your wedding party, you're welcome.
Listen here.
…
Moving from Show Me Off to Morning Man is just the perfect alignment. Beautiful lyrics, beautiful chorus, beautiful production. Here's another song that should be in your love playlist. It conforms to how a proper love song should look like so yeah not bad for a 9/10. It was giving "90's slowdance in your verandah" vibes.
Listen here.
…
Track 7 – Good Times (featuring The Cavemen).
Nostalgia! This particular one would make you think about the past good moments you've had with your friends; it brings back all the beautiful memories. Wait, am I the only one hearing Ayra Starr on that Asa's verse? Beautiful vocals and artistry for real. The harmony from The Cavemen on this song is blissful. This song is perfect for a road trip or for when you're having a chill time anywhere. The song describes friendship, loyalty, good times and memories. The opening and the chorus on this track are also one that gets stuck in your head after listening for about two times; so beautiful and melodious.
Listen here.
…
"Baby I'm a believer!" Love the production of this song so much. It did total justice to the whole song. It scores high points lyrically and vocally. On this song, Asa gave off a "me and you against the world" vibe in the pre-chorus; "them that know the least talk the loudest, don't care about what they say about us…". Most lyrics were repeated so it makes it easy to sync through even after the first listen.
Listen here.
…
Track 9 – All I Ever Wanted (featuring Amaarae)
Amaarae always understands the assignment. I honestly think she's the perfect fit for this song, she did justice to this track man, it was giving! I got a different Asa vibe on this song and I totally loved it. This song describes a short-lived situationship. Loved that Asa stepped out of her typical zone and handled the vibe correctly. The flow was legit!
Listen here.
…
Track 10 – Love Me Or Give Me Red Wine.
A beautiful way to close an album. The album closes out with this dance-themed jam. Funny because this song is literally you trying to make someone see that you are good enough for them and at the same time, you are dancing out of rhythm with a glass of wine lol. Suitable for a club dancehall playlist. The production is amazing; it has the amapiano and house music feel to it. You can never go wrong with those two, can you? 10/10.
Listen here.
…
…
…
…
The album revolves around emotions, love, companionship, regrets, desire and pain. The vocals are intriguing, mind-blowing and enchanting. The replay value? 9/10. Asa clearly paid full attention while putting this project together, the versatility and dynamism were giving. There are definitely more beautiful projects and sides to expect from Asa after this one.