Although, his real name is Joseph Chikak, he has been nicknamed Ray since his early days in high school. His love for music sprouted from a very young age. RaytheBoffin was not always into music as he was seen as a nerd. You know how you immediately figure out a certain characteristic about someone just by their appearance? Yeah. I totally agree with everyone who saw him as a nerd because looking at him in the screen right in front of me as we were about to begin the interview, I saw a man with glasses; nerdy glasses, seated already calmly and with utmost composure, looking ready for whatever is about to happen. He does look like a nerd. Back to what brought about the name, He said people often called him an "education" guy (was definitely top of his class). Seeing as he was always that smart guy, the name Boffin emerged. He explained with a very wide smile, that Boffin also translates to being geeky,smart and it also means someone that likes to experiment, so the name stuck.
.
Proceeded to the essence of the name in relation to his life as a musician, Ray explains the name still applies due to the fact that he is into the technical aspect of music, experimenting and understanding the workability of music. For some artists, there is a particular style and genre they are known for. Some have two or more, some stick with a particular genre and make wholesome sounds based on that single genre. For Ray, he experiments with every style of music. His music is mostly alternative and a fusion of genres, experimenting with a wide range of sounds and fusing them together to make phenomenal music. GENIUS (synonyms: RaytheBoffin).
.
Taking a dive into what inspired his journey to becoming a musician, Ray tells us a short story about how he had a teacher who was interested in music and made students partake in musical activities. This spiked his interest in music, he also got an acoustic guitar and his interest started to really grow from there.
.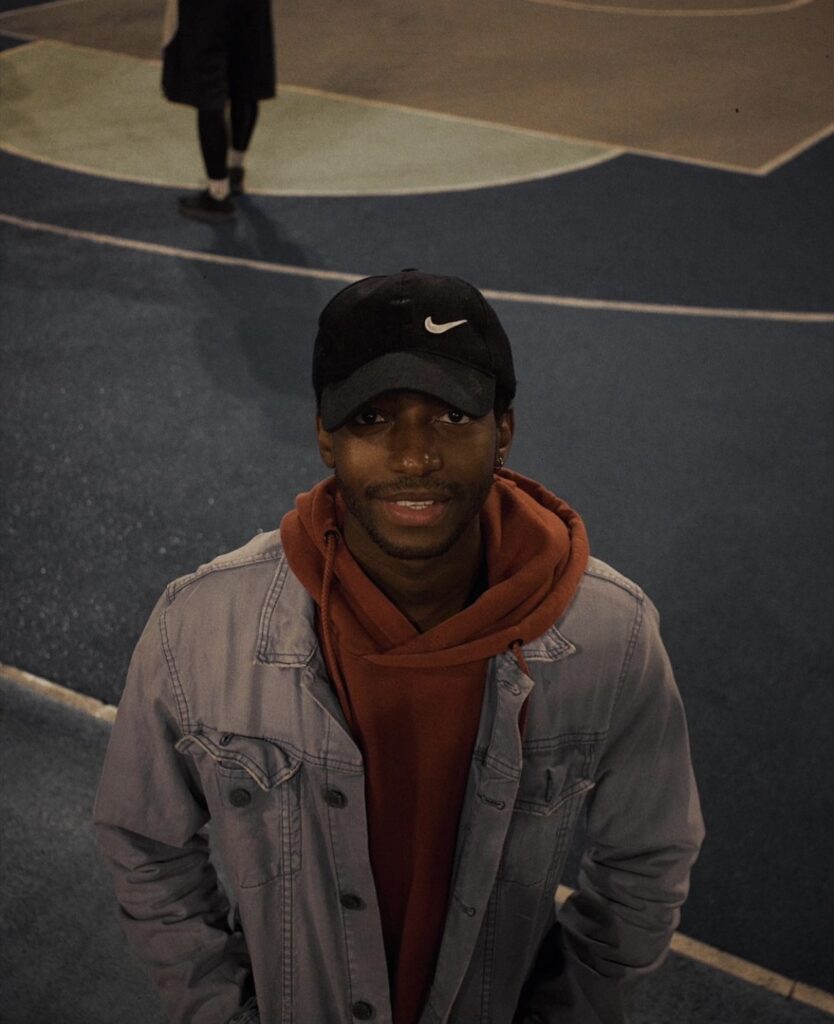 RaytheBoffin is a native of Jos, Plateau State but he schooled in Abuja so he was hardly in Jos. He traveled to UAE, Dubai for a year and then moved to Ukraine for school. He added that this made his top music influences come from foreign music. This prompted me into asking him to make a short list of major artists he listened to growing up. RaytheBoffin points out Wizkid, Drake, Lil Wayne, Kid Cudi, Kanye West, Kendrick Lamar, Rihanna, Santi, Odunsi. He also mentioned how Wizkid is a really big inspiration for him even if there are no traits of Wizkid on his music. He goes on to state that Kid Cudi really influenced his sound. You could tell that Ray is a very hip hop person after he finally referred to Kanye West as his biggest influence in music.
.
I could not help but ask him this particular question because after listening to his song; Don't Kiss and Tell, featuring Julrity, I concluded, "Oh, this is another alte artist" because for real the song is a proper alte jam and I'm pretty sure I'm not the only one who thinks so. I asked Ray if he is an alte artist and his response was; he would not say he is one, but considering the Nigerian scene, he could count as one ; while looking at it from a global standpoint, he would not restrict his style to being only an alte artist. Talk about genius explorations and exploitations. To be honest, I did not totally agree until I listened to his EP; Run Boy, Run. He's right. RaytheBoffin says he's more and he is actually MORE.
.
So yes, let's talk about the EP; Run Boy, Run. Ray talks about how the first release from the EP gained a lot of attention and he talked about the encouraging reactions it got from people. "Pretty good start for real". He said, slightly grinning. RaytheBoffin tells us about Julrity, the featured artist on Don't Kiss and Tell. She is a friend from Ukraine and that she reached out to make music while in Ukraine. He explains how they were freestyling and just getting everything together without pressure. Sounds like the entire process came natural and easy. He talked about his music group; Riverays and confirmed the group is still active and they still have plans on putting out more projects moving on.
.
Tilted back to conversations on the EP and Ray mentioned he produced all the songs on the EP. The EP has 9 songs and he talked about how Spaces, New Design, Don't Kiss and Tell are his personal favourites. We also talked about other songs on the EP and even cited how phenomenal Cyber Jesus sounds even though he did not lay his vocals on the track but he was the producer. Another interesting detail is that all featured artists on the project are Nigerians. Makes you wonder and in awe of how talented +234 artists are and how they just shine anywhere.
.
Describing his run and growth in the music business, he said "The industry is not straight forward. There are lots of highs and lows, jump of emotions, many days of doing everything independently, several people reaching out to make music, word going round that there is a person making a different type of music. It's really not straightforward man". For someone who is called Boffin and literally identifies as a geek, there are definitely other things he does outside music. Outside of engineering and music, Raytheboffin is into web development, skateboarding, likes anime, and is currently creating a manga project. Now, dear reader, at this point we have to admit by now that the people that came up with this name; RaytheBoffin, saw something and they were not wrong.
.
He also talked about recordings, shows, live performances,and hangouts. He had a lot of performances with his music group in Ukraine. Raytheboffin also mentioned that he has barely been in Lagos. He feels like his target audience is not necessarily in Lagos but he also admits this might be because he has hardly been in Lagos. Music is evolving and there are new sounds emerging every other day. I guess you'd never know the level of acceptance of your craft until you put it out and watch people vibe.
.
Still on live performances and shows, I asked Ray, if he had the chance to open a show for a particular artist, who would it be? He did not think twice before mentioning Rema with so much clarity. "I would like to be part of a Rema show" he said. Ray also mentioned Odunsi, Rema, Wavythecreator, BNXN, Wizkid as the top 5 Nigerian artists he's looking forward to working with. He also added that he'd like to work with some top international artists like Travis Scott, Baby Keem , Kid Cudi and H.E.R.
.
Okay! Another interesting piece of information I think everyone should know is that Raytheboffin has a degree in aeronautical engineering. If not music, he'd probably be working as an aeronautic engineer or as a developer. Moving on, he talks about the internet and its relationship and effects on music business. He explains that there is a significant growth with technology, and it supports independence of younger artists and he acknowledges that they are making progress.
.
Ray says if he could change anything about the music industry, it'd be the numbers. According to him, the numbers are not so great and some artists are limited, especially for people doing a different sound, it does not get delivered to its intended audience at the right pace.
.
Talking about online criticism and trolls, RaytheBoffin says he has not had any bad criticism so far, mainly because the music is new and people are looking for something refreshing and getting a proper understanding of the sound first. He agrees there is always going to be criticism, as music is subjective.
.
Run Boy, Run was released on May 27, 2022 and this is definitely one of the catchy project titles we've heard this year. There has to be a pretty interesting back story somewhere. Ray explains that what brought about the title is the history of his music and the inability and constraints that come with putting out music. He was encouraging himself to keep going without stopping. Super cool!. Run Boy, Run is a 9-track EP that has featured on major playlists on popular music streaming platforms. It is a project that combines so many sounds and explores phenomenal genres, with storytelling, direction, lyricism and production on a 100.
.
Raytheboffin thinks people who are yet to discover his music and this EP particularly are missing out on a whole universe and something refreshing. Run Boy, Run is a different sonic that can be enjoyed by open minded people, ready to try out new and refreshing sounds.