With her captivating vocal range and raw talent, Somadina is creating a sound of her own and making waves on the global stage with her unique blend of Afro-psychedelic, emotion-lifting alternative music.



In the vibrant and ever-evolving Nigerian music scene, a dynamic force has emerged, captivating hearts with her radical blend of Afro-psychedelic, emotion-lifting alternative music. Meet the charismatic Somadina, a young musical prodigy who is about to make her mark on the international stage at Lollapalooza 2023, representing Nigeria among a diverse lineup of 170 multicultural musicians.





A Musical Revelation: Unearthing Somadina's Gems



In the not-so-distant past, the mesmerizing sounds of Somadina were first experienced, through her initial debut EP "Five Stages." The beautiful and melancholic musical journey vividly portrayed the stages of grief, giving comfort to those going through a difficult period. However, like a true artist on a quest for self-expression, Somadina moved forward, leaving behind "Five Stages" to discover a new channel for her creative spirit.




An Ongoing Symphony: The Rise of Somadina


From the outset, it was clear that Somadina's talent knew no bounds. Her earlier releases, "IHY (I Hate You)" in 2018 and "Lay Low" in 2019, garnered her a devoted following and set her on a trajectory of success. In Q4 of 2022, she unfurled her wings and presented the world with her EP "Heart of The Heavenly Undeniable (HOTHU)," solidifying her position as a trailblazer in the music realm. With her heart set on exploring the uncharted territories of Afropop fusion, R&B, punk, and alternative rock, Somadina is creating a sound of her own that transcends continental borders.



A Journey Back to Her Roots: From Garden City to Lollapalooza



Somadina's musical pilgrimage began in Garden City, Port Harcourt, in 2002. A year in Nigeria followed by time in the Netherlands with her father and later pursuing a Sociology degree in London all contributed to her growth. However, it was her return to Nigeria in 2018 that truly ignited her passion for music. With a limited exposure to music during her early years, she found her muse within the Alté community, collaborating with fellow artists like SGwaD, Lady Donli, and Adey, among others.



Lollapalooza 2023: A Dream Realized


Fast forward to the present, and Somadina is preparing to achieve a momentous milestone in her career. In a few days, she will grace the stage at Lollapalooza, Chicago's iconic music festival, alongside illustrious Nigerian musicians like Tems and Rema, as well as international sensations such as Kendrick Lamar, Billie Eilish, and Lana Del Rey. Her journey from playing her first show in Los Angeles to dazzling crowds at The Great Escape Festival in Brighton, captivating audiences at Live Nation UK, and opening for Asa at the Royal Albert Hall stage in London, has been nothing short of awe-inspiring.





Recognition and Beyond the Gen-Z Musician's Triumph


With each release, Somadina has defied mainstream pressure and commercial norms, staying true to her artistic vision. Her soaring vocal range and raw talent have earned her accolades, including a prestigious nomination for Best Alternative Album at The Headies, Nigeria's foremost music award for "Heart Of The Heavenly Undeniable". Her album stands tall among other strong contenders, showcasing the undeniable impact of her artistry.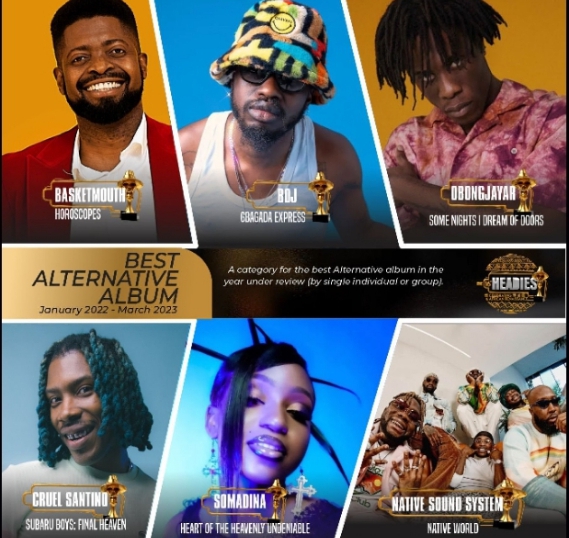 Somadina: A Songbird on the Global Stage


From touring with Odunsi the Engine in the UK, performing at Ckay's Sad Romance Tour, taking her music to cities like Paris, Berlin, and Accra to opening for Davido in Port Harcourt. She also had a two-show residency in Lagos in December 2022. Somadina's rise has been nothing short of meteoric. Now, she is set. With boundless potential and a voice that resonates deeply, Somadina is destined to leave an indelible mark on the world of music.